Two posts in one day? What the hell is that about?

Because
Aaron
and
Jamie
started talking about man-caves and flashing the workspace/writing space pictures...I wanted to join in the fun before I get busy this week and don't ever get around to it.
So, we have a little tiny house, and there is no man-cave to be found here...my wife and I have our computers on a single L desk (we work so much that if we didn't share a desk, we'd never see each other). Note that all three of the computers in the picture are mine; hers is hidden on the next desk section behind my big monitor.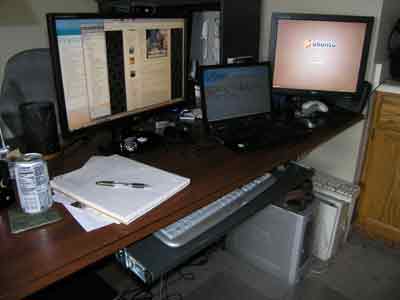 Yes, I'm out of control. 
One is my primary personal use computer; the laptop is for my day-job (I work from home a couple of days a week); the third is my old, crusty Linux computer for testing, coding, and pretty much being a geek who needs a third computer to break--it probably has the same processing power as your cell phone. 
This is in what the previous owners used as the dining room (but, in our defense, what we now use as a dining room, they had a slot machine in. Seriously.  Welcome to Las Vegas).